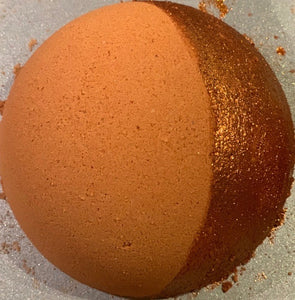 Harvest Moon Bath Bomb
The Harvest Moon, a time near the autumnal equinox. A season we all look forward to after the summer heat. Breezy days and trees transcending colors. A time we look forward to a nice warm bath with a sent of scrumptious pecan waffles and pumpkin spice will keep you cozy and fulfilled. 
Bathe in this massive 7oz beauty filled with corn flowers and smells of rich buttery pumpkin waffles drizzle with maple syrup and candie pecans. This bath bomb will have you embrace this fall with a smile.

Ingredients: Sodium bicarbonate, Citric Acid, SLS, Kaolin Clay, Cream of Tar Tar, Organic Sweet Almond Oil, Fragrance Oil (Phthalate Free), Red 40, Yellow 5, Mica, (Fluorphlogopite), Corn Flowers, Sprinkles (Corn starch, Dextrin, Magnesium sterate, Gum arabic, Confectioners glaze).