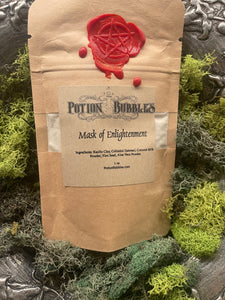 Mask of Enlightenment
Be enlightened by this nourishing face mask which contain no preservatives. Made with coconut milk powder which helps maintain elasticity and flexibility of the skin, also prevents wrinkles and sagging skin. Exfoliating flax seed powder and soothing oatmeal powder is added to this divine potion. Anti-inflammatory aloe vera powder which also contains antioxidants, enzymes, Vitamins A and C. Skin detoxifying kaolin clay which naturally absorbs excess oils and stale sebum on the skin. This face mask will clean out your pores to beautify and brighten your treasured skin.

Mix 1 part Enlightenment mask with 1/2 part milk or nut milk of choice. For a extreme detox use Apple cider vinegar. Can also mix with water or get creative and mix with fresh avocado. Mix until it becomes a paste like consistency.
Net wt 1oz
Ingredients: Kaolin Clay, Colloidal Oatmeal, Coconut Milk Powder, Flax Seed, Aloe Vera Powder.