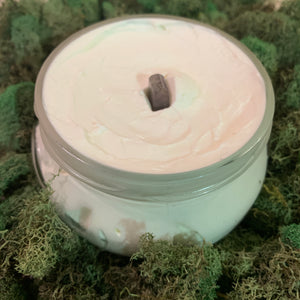 Oracle Body Butter
Regular price $18.00 Sale
This body butter smells of lavender, wisteria, and lilacs.
Toped with an amethyst stone that can be added to a chain and be used as a necklace.
Rich and creamy body butter that will keep your skin silky soft. It will literally keep you moisturized all day. Made with rich mango butter and vanilla hydrosol water makes this creamy butter silky to the touch and never leaves your skin feeling greasy.
Glass jar: 6oz net weight
Ingredients: Purified water, Shorea butter, Mango butter, Vanilla hydrosol water, Meadowfoam seed oil, Emulsifying wax, Stearic acid, Vitamin E, Fragrance (Phthalate Free), Phenoxyethanol, Caprylyl Glycol, Sorbic Acid (Paraben Free)