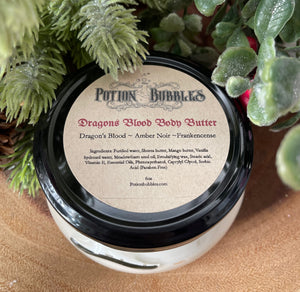 Dragon's Blood Body Butter
Regular price $15.00 Sale
The herb of consecration: Dragons Blood has been known to be used for protection and to increase the power of any ritual. Treat your body to this sacred scented body butter to give you the ultimate soft skin and spiritual protection.
Made with moisturizing Mango butter. Many of the vitamins found in mango hold skin-improving powers. It's full of omega 6, 9 fatty acids, vitamins A, C, E, oleic, stearic, and linoleic acids. it is packed with antioxidants that protect the skin against free radicals (damaging particles in the air). Its no wonder how mango butter is absolutely incredible in moisturizing the skin! 
Shorea butter is rich in Stearic and Oleic fatty acids. It is an excellent conditioner for skin restoring softness and elasticity. It is believed to provide soothing and anti-inflammation properties, as well as boost UV-protection.
Our body butters are lightweight, silky smooth, and nourishing for your Goddess skin.

Cauldron Glass jar: 6oz net weight
Ingredients: Purified water, Shorea butter, Mango butter, Meadowfoam seed oil, Emulsifying wax, Stearic acid, Vitamin E, Fragrance (Phthalate Free), Phenoxyethanol, Caprylyl Glycol, Sorbic Acid (Paraben Free)