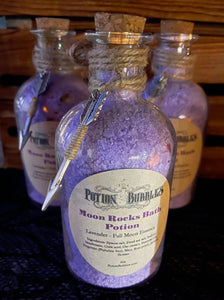 Moon Rocks Bath Potion
Regular price $12.00 Sale
Made for a witch after a long day of hard ritual work! Made with skin softening salts of Epsom salt and dead sea salt to extract those toxins out your body and bring peace of mind with the relaxing aroma of lavender! Also added to this potion is oat extract to provide a little extra moisture to dry skin due to the cold winter air. These potions were set under the full moon to soak the beautiful energy in and bring it to your bath experience.
These beautiful salts are housed in a reusable glass potion bottle.
Ingredients: Dead sea salt, Epsom salt, Sodium bicarbonate, Citric acid, Oat extract, Essential oils, Fragrance (Phthalate free, Mica, Rose petals, Jasmine flowers.